TOP 3 TIPS TO HELP YOUR USERS NAVIGATE THEIR DIGITAL WORLD

By Sarah Lloyd
These days, nearly everything we do is online. You enroll online in a game theory course through Coursera. You order your dinner through GrubHub. You hitch a ride with Lyft. You even buy an app to fall asleep. All of these online transactions have become second nature, but have you stopped to think about the user experience for these platforms?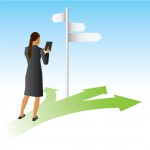 For the heavy hitters in the online world, such as Google, the user experience is so ingrained in every product (and in the company culture) that "no instructions required" is their M.O. The goal is simple: make it as easy as possible for the user to navigate from A to B. Online help is available, but rarely needed, since the user's path to success is so clear.
Of course, Google has the resources to ensure a seamless user experience, but what about the rest of us — those of us who partner with companies to revamp legacy IT platforms or work with organizations to translate manual processes into streamlined digital systems? Our solutions, too, rely heavily on user experience, and we can use some of the same tricks online giants use that you may not even notice.
Here are DAI Solutions' top three tips to jumpstart your users' success in navigating their IT systems and processes.
1. Hire a Self-Service Digital Personal Coach
No, this doesn't mean you send someone to stand over the user's shoulder to help them navigate. Instead, set up your online system to provide digital cues and coaching – guiding your user every step of the way – to reach their goal. Have you ever seen a help bubble? Of course, you have! When you navigate to Amazon.com, it's the first thing that hits you – the Sign in bubble.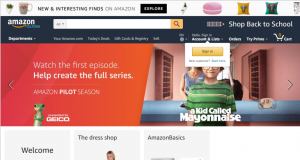 Click to enlarge
Have you noticed it before? Maybe not. Perhaps you were signed in when accessing the site, so you didn't need any prompting. That's great for Amazon – they already know who you are! If not, Amazon will be sure to remind you to tell them immediately so they can suggest things for you to buy. Cue the help bubble.
2. Offer Help at the Click of a Button
Have you noticed how hard it can be to find help when you need it? Customer support telephone numbers are a thing of the past. It's often easier to find them on GetHuman.com – a website that saves you time and frustration with customer service – than it is on a company's own website.
Why not save your users the trouble and put help front and center with a 24/7 online help launcher?
SurveyMonkey does this extremely well. Notice its black Help launcher bottom right. It never goes away but doesn't get in the way.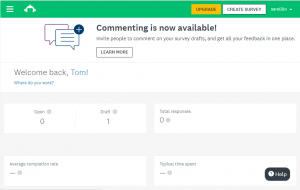 Click to enlarge
This help button offers context-sensitive help, meaning the information and instructions it gives apply to what the user is doing. If the user wants different info, they can search anytime for what they want via the Help launcher's search bar.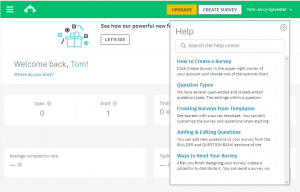 Click to enlarge
3. Understand People Learn from Experience
As you create an application, determine the novel activities (required activities a user has never performed before) necessary to quickly adopt the system, and design tools and training around that. Give users hints on the same screen as they complete a transaction to provide as-you-go learning. Don't make them open another browser tab. By then, you've already lost them.
Put yourself in your user's shoes. Emulate their struggles, constraints, and needs. Empathize with how to make their life easier. Then, you'll know not only what your user needs, but also what your system needs to succeed.